Sunset at final camp before our summit bid - cold, tired, hungry and in an oddly perverse way, totally enjoying it. Can't say the same for the my dear wife though.... no shower, no toilets and worse, no chicken rice or laksa.


The final slog up the ridge leading to the summit, the Italian Alps hidden below the clouds.



No higher mountain - view of the French Alps from the highest summit in western Europe (15, 781 ft)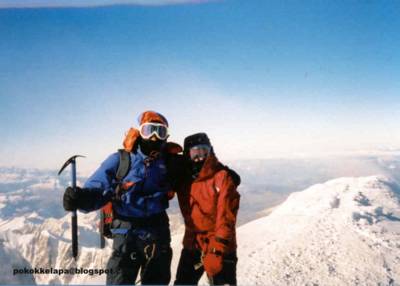 Temperatures at -10 C, winds howling at 60km per hour and sheer drops of more than 10,000ft on both sides, I decided to pop the all important question: "Dear, I need to wee....".



- KL 16082004