When the missus said I get to pick the destination for this year's Christmas trip, I headed straight for Google and found Rjukan. Boasting 140 frozen cascades and a climbing season starting as early as November, I knew I could do no wrong - especially after encountering dangerously brittle ice in a warmer-than-usual Kandersteg last year.

Having worked hard the last couple of months, Irene was keen - no, determined - to take it easy this winter - heck, the lady practically ordered a white Christmas, a warm cosy cabin, a hot mug of chocolate and a good book! She got her wishes granted when I found a climbing partner in Andreas Spak, a local guide.

In a weird-but-wonderful sort of way, nothing beats getting up in the dark (sun rises at 9.30am here), throwing on a pile of warm clothes and hauling a bunch of gear out in the heavy snow hoping for a good day. With ice falls like these, I'd say I have hit jackpot!




We were meant to do a bit of skiing while we were in Norway, but the ice was so good we never made it to the snow slopes.




Like all things mountaineering, getting to the top is only half-way. Abseilling down brings along its own risks - but damn, was it fun!!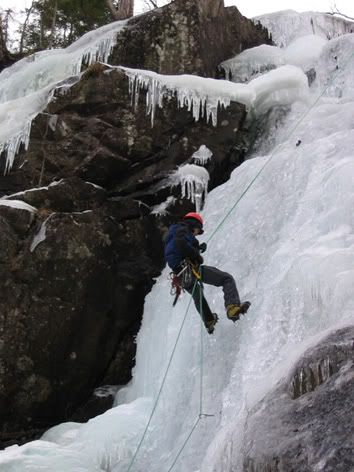 A good husband never leaves his woman behind. Good advice - so I dragged Irene out into the valley and tried (and tried) to show her the joys of ice-climbing. She grumbled, but deep deep down she knew she liked it.




During our down time, we took the chance to watch other climbers performing magic.




A climber chillin' and just hanging around.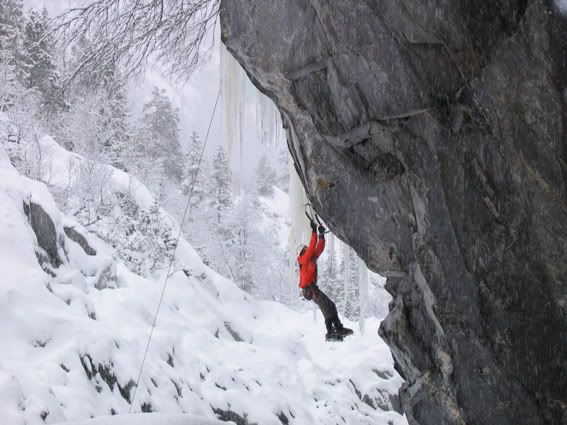 All in all, Irene got her snow and white Christmas, and me - I certainly got my ice. At the end of the week, I had multiple bruises all over my body and arms so weak I could barely hold my cup of coffee - we headed for home in the glow of alpine light.

[Photo of alpine sunset to be added]

- KL 18012004